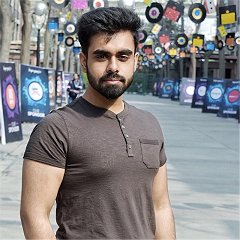 Registered user since Tue 5 Sep 2023
Bio:
Sunny Dhama is a graduate student pursuing a Master's degree in Computer Science at the University of Florida, Gainesville. Operating at the intersection of Human-Centered Computing (HCC) and Artificial Intelligence, Mr. Dhama serves as a Research Assistant in the Learn Dialogue Lab under the supervision of Dr. Kristy Boyer.
Over the past year, Mr. Dhama has first-authored a research paper contributing to advancements in HCC. He is also deeply involved in multiple lab projects including "Collaborative Sports," a study focusing on teamwork dynamics, "Amby: Language Model for Middle Schoolers," aimed at enhancing educational frameworks, and "Integrate AI," a project that enables middle school students to assimilate Artificial Intelligence concepts into their curriculum.
Prior to his academic career, Mr. Dhama accrued 1.5 years of professional experience as a Software Engineer and specialized in frontend technologies, specifically React.js. He has transitioned this industrial experience into an educational role, currently mentoring two undergraduate students and one senior design student for the Fall 2023 semester.
In sum, Sunny Dhama is a committed researcher and mentor who brings a unique blend of industrial and academic perspectives to the VL HCC conference. His endeavors in both realms underline his overarching goal: to serve as an impactful leader in the development and deployment of future IT solutions.
Affiliation:
University of Florida
Research interests:
Machine Learning, Natural Language Processing, Artificial Intelligence
Contributions